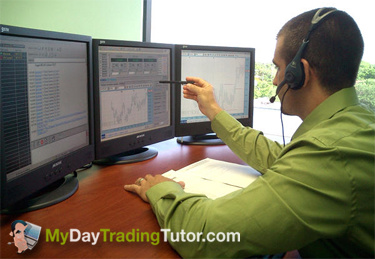 (click here to read the story behind this picture)
My name is Dan Alvarez (Day Trading Tutor). I just wanted to let you know a little bit about myself so that you get to know me better.
I am a serial entrepreneur and the face behind Day Trading Tutor. Based in Miami, Florida, I've always considered myself a visionary, since I'm always trying to change the world of trading and investing.
Part of what I do involves working with talented traders and money managers with extensive experience managing portfolios for clients in different parts of the world. I'm also looking for skilled, new traders all the time; traders who may want to manage money for a living.
During the beginning stages of my financial career, I was a stock trader and investor. In the process, I obtained considerable experience day trading stocks through a direct-access trading system using level II. In fact, my initial foray into the world of day trading was with stocks using a direct-access trading platform named RealTick. Today, I believe that currencies as an asset class offer day traders a lot of advantages. That is why I spend a great amount of my time dealing with the forex (foreign exchange) market (and now also with cryptocurrencies, e.g., Bitcoin, Ethereum, etc.). On my site, you'll be able to sign up for a simulator that will allow you to trade the market in real time and get access to other useful trading tools as well. Fill out this short form to get access to the simulator.
In the past, I have helped manage investment portfolios for different people. Now I am focused on alternative investments such as forex or foreign exchange (FX), crypto (cryptocurrencies), etc.. The traders I work with work with multiple asset classes.
I have taught trading and investment courses at Miami-Dade College and the University of Miami. Even though teaching has always been my passion and I enjoy it immensely (despite the lack of financial rewards), my involvement with an infinite number of projects and spending time with my family have kept me away from education almost exclusively. Nevertheless, every blue moon I participate in an educational seminar or teach a class. I believe that all of us should strive to be teachers at some level or another in our lives.
Since 2013, I have also diversified into another passion of mine: luxury watches. As a result, I helped my brother-in-law Carlos make CRM Jewelers one of the most popular and successful high-end watch businesses on social media. In fact, we run the business similar to an investment fund! What do luxury watches have to do with trading? You'll be surprised!
I also enjoy reading a lot. I have read a lot of books on trading, but (unfortunately) most have not been very useful. I wrote the basic e-book that you get when you request a demo the trading simulator. You can use this ebook to get your feet wet on the demo and the trading tools I discuss here to build a foundation in trading. My favorite trading books are Reminiscences of a Stock Operator, by Edwin Lefèvre, How I Made $2,000,000 in the Stock Market, by Nicolas Darvas, Market Wizards, by Jack Schwager, and Trading in the Zone, by Mark Douglas. In the non-investment category, my favorite book is probably How to Win Friends and Influence People, by Dale Carnegie.
I hope that I can make a difference in your life by helping you learn day trading the right way. I designed this website super simple on purpose. Here you will find the seven steps that I think everyone should follow if they want to start trading. If you have not looked at these seven steps already, start by reading the 1st step, some important Day Trading Facts. You should also read the information on trading currencies, because [as I have mentioned before] I think Forex can be as good or much better to day trade than stocks.
Over the years, many of you have asked me if I day trade accounts for others. Even though the answer is "no," I have played the role as a risk manager in different algorithmic trading and managed account projects (both institutional and retail in nature). Due to this unique experience and the nature of the financial projects I'm involved with, I am always in contact with talented money management professionals in case you require assistance in that area.
Regardless of your level of experience, I can either help you become a better trader or put you in contact with someone that is.