This is round II in the search for the cure for my mom's multiple sclerosis. Her first adult stem cell treatment was in Argentina, with stem cell pioneer, Dr. Roberto Fernandez-Vina.
This is the link to my first blog post about her therapy in Argentina using adult human stem cells.
The first procedure took place in July 2009 and the second in July 2010. The treatment in El Salvador was also provided by the doctors in the Fernandez Vina Foundation ("Fundación Don Roberto Fernandez Viña"). I have posted pictures of the doctors at the end of this post.
As I explained in my first post, my mom quickly improved after the first therapy in 2009. Around 5 months after that, she plateaued (read "Update on Mom's Stem Cell Treatment for Multiple Sclerosis").
To tell you the truth, I did not expect a one-shot-in-the-arm miracle cure after the first stem cell implant. That is what patients have been subconsciously programmed to believe is possible by the traditional medical community, which always under-delivers and seldom cures. What I expected was some type of improvement; a certain degree of physiological healing – a "partial cure" of sorts. Since my mom was diagnosed with MS in 1996, a partial cure for her multiple sclerosis was never a potential perk of the toxic treatments and traditional therapy she had received from her neurologists and other doctors in the US. But in Argentina, thing were different…
MRI Results – After the First Stem Cell Treatment
Since Dr. Fernandez Vina always requests MRI results that are less than 3 months old from MS patients before their treatment, my mom had an MRI taken on March 2010 (as we scheduled and prepared everything for the trip to El Salvador).
The most recent MRI results showed that there was a decrease in the size of some of the lesions or plaques that are seen as white spots in an MRI scan.
Now…I don't know about you, but I strongly doubt that her improvement was brought about by the new organic Cuban espresso from Whole Foods she has been gushing down lately!
Even though my mom's balance and coordination improvements declined a bit after the plateau phase, the MRI results are proof that the stem cell surgery partially healed some of the damage from her multiple sclerosis. Her health means the world to our family and we are willing to continue her stem cell treatment for as long as we need to, even if it just simply stops her MS from progressing. That's something that mainstream medicine in the United States has never been able to achieve. Furthermore, since the therapy involves the use of her own adult stem cells, the health risks of embryonic stem cell treatment (such as donor-host rejection risk) are absent from the equation.
MS Treatment in El Salvador – No, We Didn't get Shot!
To tell you the truth, I was a bit freaked out about going to El Salvador (out of all places!) for my mom to get her second stem cell implant; especially after having seen all the documentaries about the gangs and violence there.
But the reality is that all those horror stories are completely overblown. I was quite taken back when I saw how nice and peaceful (and different than the movies) everything was. My mom and I felt completely safe at all times.
First of all, the flight from Miami to El Salvador was a walk in the park compared to the endless 9-hour flight to Buenos Aires! (This view was shared by the 3 other patients who went to El Salvador to get treated at the same time; two were also from Florida and one from Venezuela). As a result, my mom arrived well-rested.
The drive from the airport to the Sheraton Presidente Hotel in San Salvador (see pictures at the end) was a quick 30 minutes. The hotel was very nice and the service was excellent. The food at the Sheraton was better than at the San Nicolas Plaza Hotel, where we stayed in Argentina. All the doctors were staying at the Sheraton as well, so we frequently ran into them in the halls and dining areas. That was really nice.
Because of some scheduling issues at the hospital, we got to stay the first two days "chilling" at the hotel while awaiting my mom's treatment. We also got to sightsee a bit as well as as meet and socialize with the other 3 patients staying there (one was receiving stem cell treatment for diabetes, one for COPD (Chronic Obstructive Pulmonary Disease) and CHF (Congestive Heart Failure), and one for neuropathy – my mom was the only patient being treated for MS).
Differences Between the Stem Cell Treatment in Argentina and El Salvador
On the morning of the treatment, one of the Salvadorian doctors who assists Fernandez Vina group during their stem cell surgeries, drove my mom and I to the hospital. The drive was about 15 minutes long.
The hospital was similar in quality and cleanliness to the one in Argentina. The staff was very helpful, caring and professional. The rooms were a bit small, but clean, with cable television and free Wi-Fi (thank God for that!).
There were obvious and very beneficial differences between the procedures employed by Dr. Fernandez Vina's group in El Salvador and Argentina. During the Argentina stem cell therapy, general anesthesia was used. On the other hand, in El Salvador the doctors only employed local anesthesia. My mom's treatment lasted less than 2 hours in El Salvador (including extraction of the bone marrow, harvesting of the stem cells, and implanting of the cells via catheterization), whereas in Argentina it took much longer than that. She was back to her hospital room rather quickly. She had no bruising as a result of the bone marrow extraction from her hip bone (iliac crest). The needle used for the extraction was a lot thinner than the one used a year prior, thus the need for local anesthesia only.
After the treatment, I asked my mom if she experienced any pain whatsoever and she told me that she didn't.
All four patients who received adult stem cell therapy on that day were blessed with a successful surgery – and they were all released from the hospital in the afternoon.
On the following day, my mom and I went with Luis Rodriguez and his mom (Marta) to a few of the local malls in San Salvador, the Cathedral, and a few souvenir shops to pick up some gifts for friends and family members back in the US. Luis brought his dad to the Foundation so he could get stem cell therapy for his COPD and CHF (see pictures of Luis and his family at the end of my post). We were truly blessed to meet and hang out with Luis and his family during our stay in El Salvador. Luis is genuinely a great, warm-hearted and caring person who you naturally love to be around. He's also extremely funny (I think he should have been a comedian), which naturally brings up the spirits of anyone he comes in contact with.
How to get Adult Stem Cell Therapy
After my mom's first treatment with adult stem cells, I was so excited to have found something that could potentially cure or improve her MS, I wanted to tell the whole world about it.
And boy did I get my chance to do so!
After I wrote the blog post on our Argentina stem cell experience about a year ago, an amazing thing happened…
I started receiving hundreds of thank you emails and even more with questions from people that either wanted to have the procedure done or had a loved one suffering from a serious condition without a known medical cure.
Even though it was a bit of a challenge for me to respond to all of these requests, it also gave em a great sense of satisfaction.
Am I a Candidate for Stem Cell Therapy? – IMPORTANT
From personal experience, I know that adult stem cell therapy is effective for multiple sclerosis. I also know other people who have even been completely cured from MS after receiving treatment from Dr. Fernandez Vina's group (which is the main reason we decided to get my mom treated in the first place). Furthermore, I know that many diabetics, both young and old, have been successfully treated as well as children with autism.
But the reality is that, unfortunately, not everyone is a candidate for stem cell therapy.
For that reason, it is important for a patient to provide accurate information about their medical history and relatively recent tests results indicating the current state of their condition or disease. This would allow the doctors to determine if the patient qualifies or not to get treated.
Someone from the Fernandez Vina Foundation will be able to walk you through the initial process involved to determined if you're a candidate for an implant or not.
How much does the stem cell treatment cost and does my medical insurance cover it?
When I wrote my first post on my mom's stem cell treatment in Argentina, one of the most frequently asked questions I would get was, "How much does the stem cell treatment cost?"
For that reason, I will add that information here.
Unfortunately, I'm not aware of any medical insurance that covers stem cell treatment, neither in the United States or abroad. Furthermore, stem cell therapy is not really an accepted procedure in the US and mainstream doctors typically frown upon it. Even my mom's neurologist, who is a pretty friendly guy, replied as follows when I asked for his opinion on the use of stems cells to treat MS…
"Stem cells as a viable form of treatment are at least 100 years away. Neither you or your family will live to see it."
I am obviously paraphrasing, but that sort of moronic response doesn't really inspire you to hold your breath and wait for stems cell treatment to be available in the United States as a regular form of medical treatment!
I'm not really going to roll the dice and let my mom become crippled or die for failure to act. Stem cell treatment IS HERE NOW. The procedure is being done in various countries and administered by recognized doctors in the field (Dr. Fernandez Vina is one of them).
Even though the regular stem cell procedure for most diseases is $15,000 USD with Dr. Fernandez Vina's group (and that's on the low end compared to what other stem cell treatments cost in other parts of the world), what other options do the loved ones of a family member with an incurable disease have?
What good is a lifetime of traditional, almost "free" treatment covered by medical insurance if that treatment doesn't provide a cure? What is the value of the life of a mother, father, son, husband or wife who you love?
The amount of money someone saves by subjecting a loved one with an incurable and often deadly disease to traditional medical treatment that's covered by insurance, doesn't even come close to a fraction of the size of the loss associated with the death or disability of that loved one.
Think about it. As a family, we thought about it too, and realized that my mom's health is too important for us to just take a sit-back-and-wait approach.
The Importance of Physical Exercise after Stem Cell Treatment for MS
Since my mom's first treatment with stem cells, the doctors pointed out that it was crucial for her to remain physically active on an almost daily basis.
I have to admit that even though she started exercising almost every day after the first treatment, she eventually slacked off and seldom exercised.
That's why, after the second surgery, we placed her in a regular workout program with a trainer that's a dear friend of ours. He's actually my kids' swimming instructor and used to train the Cuban national team back in the days. That has been a blessing in disguise, because people tend to have a greater chance of sticking to a workout plan if there's someone there to push them through it.
My mom has been gradually improving after the second treatment in El Salvador. Her balance and coordination have also improved. I can't wait to see the next MRI!
God Bless you all!
Pictures from our El Salvador Stem Cell Experience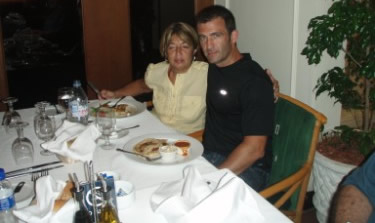 Dining with mom at the Sheraton Presidente Hotel in San Salvador, where all the stem cell doctors stayed, including Dr. Fernandez Vina.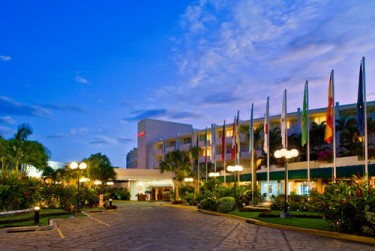 Nice Picture of the Sheraton Presidente Hotel (actually got this one off the web).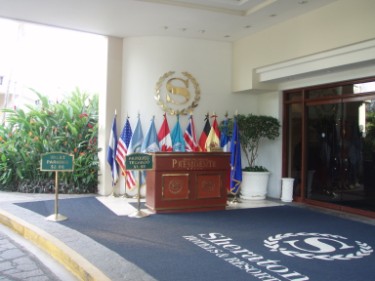 Arriving at the Sheraton Presidente from the Airport in El Salvador (ready for my mom's therapy!).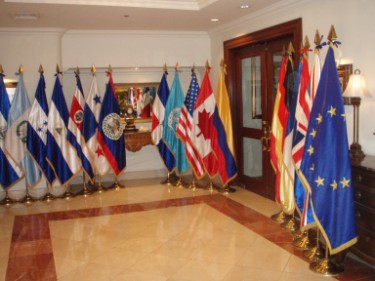 Inside the Sheraton Presidente – Hallway leading to room elevators.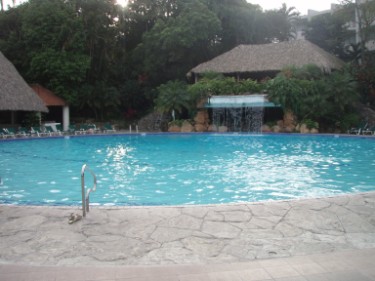 Sheraton Presidente – View of the Pool.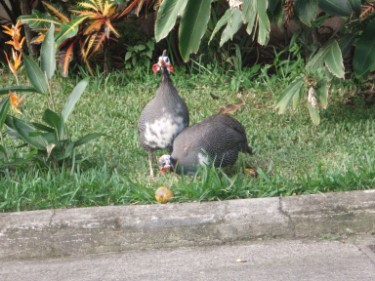 Sheraton Presidente – Yard with Wildlife (including Quail).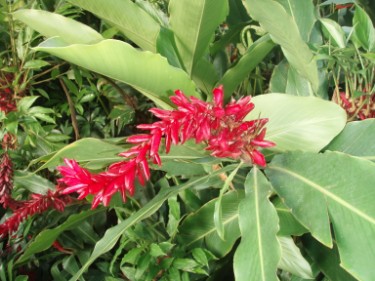 Sheraton Presidente – Beautiful Flora.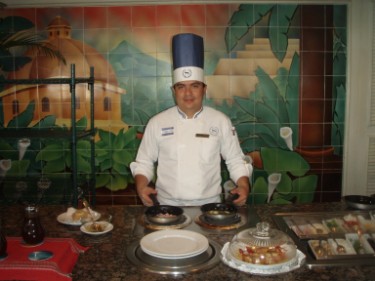 Sheraton Presidente – Chef Walter Cruz making our breakfast!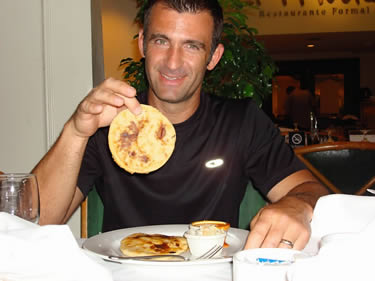 Pupusas – Traditional Salvadorian Cuisine – Yum!- We had our share of these – It's actually a requirement before stem cell therapy! LOL!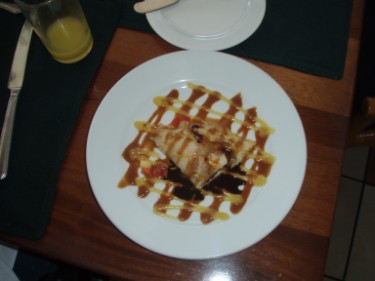 Rainbow Crepes – I had at least four of these on the day before my mom's surgery!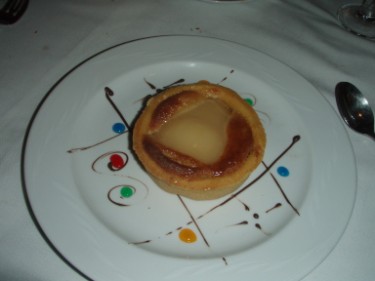 Traditional Salvadorian Dessert made with Pears – I recommend it to anyone staying in the Sheraton Presidente in El Salvador.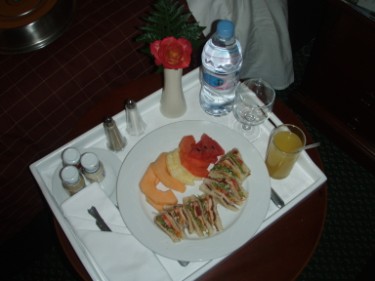 Club Sandwich and Fruit – We ordered room service at night on the day of the surgery.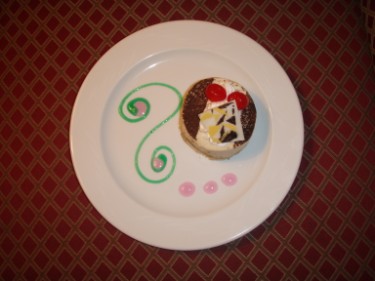 The best part of the meal was the Tiramisu. It was so pretty, we didn't want to eat it. Not!!! (another morsel required to increase the stem cell effectiveness. LOL!).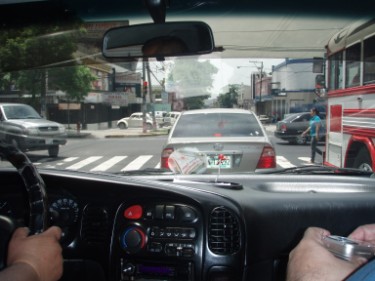 Sightseeing in San Salvador the day after the treatment – view from tour guide's van. Luis Rodriguez in passenger seat. Luis' mom, Marta, was sitting in the back with my mom and I.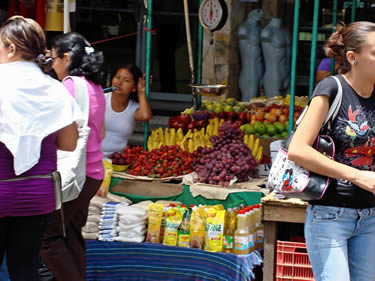 More Sightseeing – Street Vendors – On our way to the cathedral.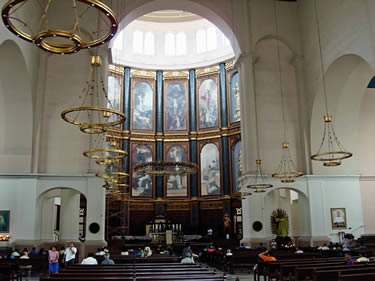 View from the Metropolitan Cathedral of the Holy Savior (Catedral Metropolitana de San Salvador).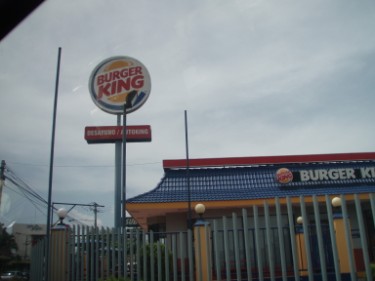 Random Picture of American Corporations Polluting the Salvadorian Landscape. He, He!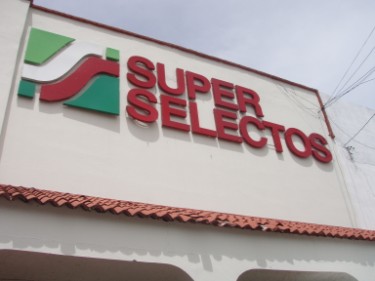 Super Selectors – Supermarket similar to Publix in El Salvador – Had some delicious, natural coconut water there. Refreshing!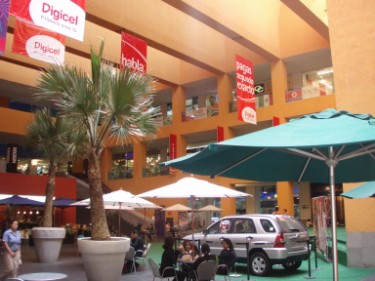 Visit to one of the local malls in San Salvador. I was truly impressed.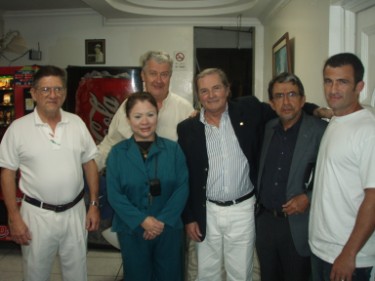 Stem Cell Doctors on the day of the surgery. Three doctors from the Fernandez Vina group (including Dr. Roberto Fernandez Vina with sport coat, Dr. Vasquez from El Salvador (standing next to me), and the Director of the hospital (green outfit).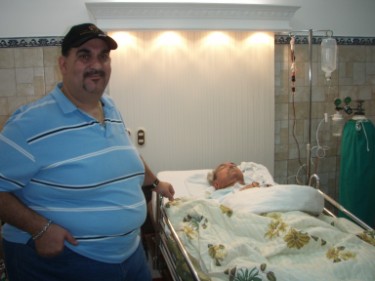 Luis Rodriguez next to his father (Luis Sr.) after the stem cell treatment for COPD and CHF.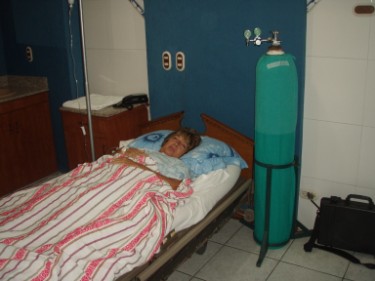 My mom in the hospital room after her adult stem cell implant for Multiple Sclerosis.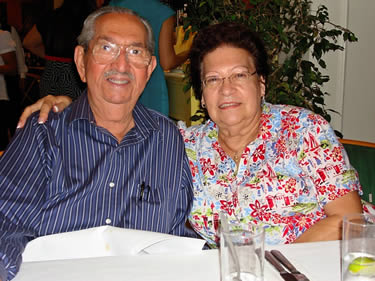 Dinner with Luis Rodriguez's parents (Luis Sr. and Marta) the day after the surgery.