Dear traders and investors; what bloodshed have we witnessed courtesy of the stock market! Over 8 TRILLION DOLLARS in wealth have evaporated after Thursday's stock market close – down 39% from its peak. Ouch!!!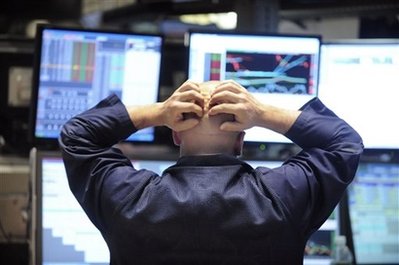 Aren't stocks supposed to be the backbone of all retirement portfolios? Only if you believe the giant brokerage firms that recommend them to us or the PhD Finance professors that pitch'em to our sons and daughters in our universities – or the millions of poor souls that hold them in their investment accounts.
As I witness the Dow shatter through 10,000 and 9,000 (levels of important psychological significance) in less than a week, I'm disgusted on how far down our throats stocks have been jammed. Hopefully, this entire experience won't be in vain. After this catastrophe, whoever doesn't realize that traditional investments (like stocks, bonds, and mutual funds) are extremely dangerous, is just a plain masochist.
People; wake up! Don't you realize that buying and holding stocks don't offer you any protection to the downside? I'm just bewildered by how people insist on buying these ticking time bombs as they plunge into oblivion; trying to catch the bottom. It's not about correctly guessing where the bottom is located. It is about being exposed ALL THE TIME while you're in this treacherous equities market.
At the end of the day, the stock market returns around 10% a year based on historical records (probably less after this year's drop) – but your downside risk by buying and holding is huge. How many bottles of Pepto-Bismol are you willing to drink to make 10%?
Here's the million dollar lesson: there are other ways; ways that don't involve stocks or any other economically sensitive asset class. There are some alternative investment products that can basically eliminate traditional market risk from the equation.
Want to learn more about ways to weather the stock market storm perfectly well?
Sign up for our next free day trading webinar right here.